1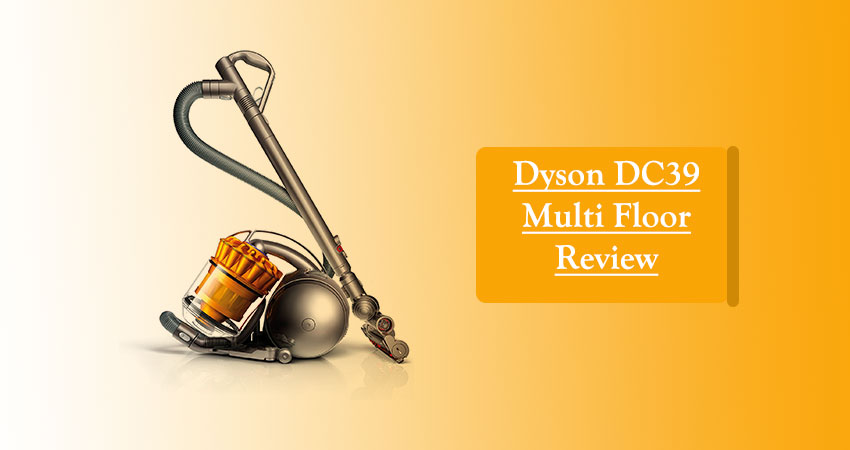 Dyson DC39 Multi Floor Review – Is it Worth the Price Tag?
Dyson DC39 Multi Floor is one of the most popular and best rated vacuum cleaners. This one is quite different from DC39 Animal, but when it comes to basic vacuum cleaning, these two are almost the same, i.e. they have comparable capacity and motor as well as reach. However, the Dyson DC39 Multi Floor canister vacuum comes with different heads for different types of flooring, ergo, multi-floor. The head, which is the main component of the cleaner, is the one that picks up dust and dirt. Its nozzles and attachments can be attached to the hose to help you clean different types of floors.
Dyson DC39 Multi Floor Review
Last update on 2020-10-20 / Affiliate links / Images from Amazon Product Advertising API
The brand Dyson is usually associated with top-rated vacuum products because of its innovations that are incorporated within its small devices. The Dyson DC39 Multi Floor canister vacuum cleaner encloses unique components and innovative designs that can be difficult to find in other vacuums available on the market. Although the products of Dyson are in the higher price range, the value they grant can be easily noticed each time you use them.
The Dyson DC39 Multi Floor canister vacuum is one of those vacuums that scored high on reliability. With that in mind, it can qualify as a best-buy product.
Dyson DC39 vs DC23

Performance
Many Dyson DC39 multi floor canister reviews said that this unit is not a disappointment, even though it has a pricier tag. There are several changes that you can see making this unit a nicer and a better appliance to clean with on various types of floors. Even though it's a small unit, it does have more suction power with enhanced cleaning capacities. Each part and accessory can be easily placed. It's also bagless, so there's no need for you to purchase a bag in the future, which really saves money in the long run.
This Dyson model is packed with the company's trademark ball technology that makes a huge difference in how you vacuum your room. The smooth mobility of the unit allows you to avoid hitting things or damaging paint on the wall corners. It's also stable, as it is closer to the floor when you're cleaning. Then, its lightweight design lets you pull it effortlessly in different directions.
The brush roll's on/off button is also conveniently located so you can switch from carpet to tiles to hard floors without difficulty. Thus, when cleaning a small rug, there's no need for you to bend over to turn on or off the brush. Because it is driven by air and is not as heavy as a full upright vacuum like the Dyson DC40 Multi Floor upright vacuum cleaner, it may not be able to pick up deeper dirt on carpets. This means that you may not achieve deep cleaning on high-pile carpeting.
The powerful turbine head of the Dyson DC39 multi floor canister vacuum can operate on carpet and wood floors, which is the essence of this vacuum. With its swivel action, handling the edge of your furniture and stairs can be undemanding.
When it comes to noise, the Dyson DC39 multi floor canister vacuum cleaner operates softly. Although there's still noise that you can hear, this unit is calmer than average vacuum cleaners. Also, its overall design isn't at all bulky, allowing you to carry it anywhere you, please.
Pros
1. Easy to maneuver
This is one of the most evident features of the Dyson DC39 multi floor. Since it employs the canister ball design of Dyson, this unit aids in movement and maneuverability. This means that you can twist and turn it between furniture in a painless manner.
2. Durable
Dyson vacuum cleaners are durable. But this unit is both heavy-duty and well-engineered cleaner. A simple rotation of the handle causes an automatic adjustment to the power head.
3. Works on hard floors and carpet without changing heads
Another great attribute of this vacuum is its multi-floor capability. It easily goes from hard wood or tile surfaces to carpet, as the head automatically adjusts. No need to bend over and make changes as you move the vacuum around – just push the button on the handle, and it turns off the brush roll.
4. Built-in attachment hanger
On the front of the unit, you'll find a built in hanger for the attachments, a huge convenience. This aspect of the vacuum allows you to attach wand, handle and hose of the unit when storing it. Although you may need to know the proper way to attach these three parts, this feature works very fine.
Cons
1. Plastic Parts

Most Dyson vacuums have a lot of plastic parts. This keeps them lighter weight than their counterparts. Even though there have not been complaints about breakage, some users question whether the parts will last in the long run.
2. Accessories have to be Dyson

While it comes with a combination tool and stair tool, if you wish to purchase other accessories, they have to be specific to the Dyson model – not just any tools will fit this vacuum.
Rating:
Despite the negative things about this unit, we can still give Dyson DC39 multi floor a positive rating of 4 stars thanks to its inventive and unique features and exceptional cleaning ability.
Verdict
With the Dyson DC39 multi-floor, you can look forward to a clean home at your convenience. While it's a pricey unit like any Dyson, you can find this Dyson vacuum on sale if you look hard enough. Through its different useful features, cleaning your house can take much less effort than with most vacuums. Its beautiful design is also another reason you should look into this product. However, if you have deep pile carpets, you may want to look into the heavier uprights like the DC40 multi floor or the DC50 compact upright, as these will likely do a better job. If the DC399 is for you,